5 Ways to Connect Students to the Mission of LET'S GO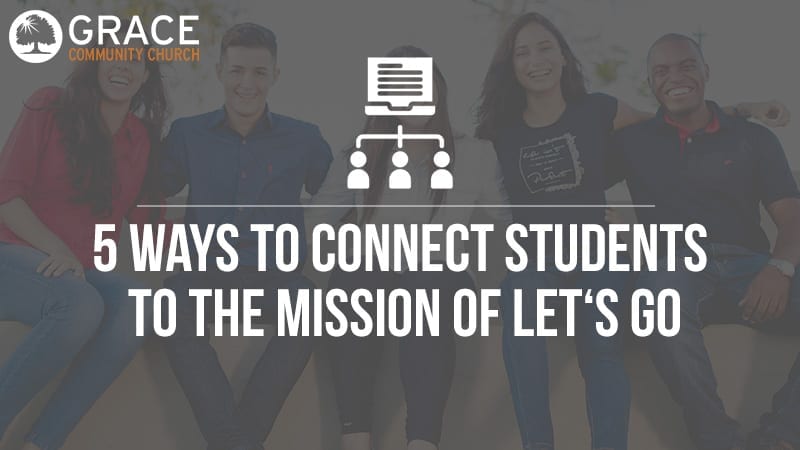 "You are the church of the future." My youth pastor said this to us often while I was growing up. I even used that same phrase myself a multitude of times when I became a youth pastor nine years ago. While it's certainly true in one sense, I've recently become convicted by the use of that phrase. Of course, students get older and eventually age out of our youth programs. That happens whether we like it or not.
But what are we saying when we tell them that they are the church of "tomorrow"? How does that speak to their current situation? How does it relate to the lifestyle of middle and high school students as they go to class, play sports, and indulge in typical adolescent behaviors? Perhaps we have been encouraging them in a way that delays their calling instead of advancing it. Hear me out.
Our young people are not just the church of tomorrow – they are the church of now!
Grace family, our way of thinking must change. We must make youth involvement a priority. As your NextGen Pastor, I can only serve as the catalyst for this philosophy; You – parents and students alike – must embrace it together. Fortunately, the Let's Go movement provides many opportunities for teenagers to become connected with the church's overall vision.
Parents, here are the top 5 ways to get your students involved.
1 | Engage in Spiritual Dialog.
As a church, we are going deeper in our faith in this season. Pastor Jarrod is speaking to you, but did you know that your students are also being challenged? Each weekend, the NextGen Directors across our campuses deliver deep, Bible-based messages with the purpose of encouraging your students to take their faith to the next level. As your lead youth pastor, I'm asking you – I'm begging you – to talk to your students about what they are hearing and seeing during these services.
Don't just ask them if they had a good time. Ask them how the message made them feel and how they will use what they've learned at school the following day. It may sound simple, but having even just a short dialogue on the car ride home will enhance what they receive from God.
2 | Take Their Friends to Church
Have you ever wondered why God blessed you with the means to buy that huge seven-passenger SUV, even though you only have two kids to chauffeur around? Boom! It's so you can give your students an opportunity to invite their friends to Grace AND provide a way for them to get there. Our leaders are actively encouraging students to reach people who don't know Jesus.
Yes, it's hard for our students to invite their unchurched friends to church. But what's even more difficult is to convince an unchurched parent to drive their unchurched student to church. Why not show your son or daughter you support their Let's Go efforts and make it easier for another teen to meet Jesus?
You are already making the trip – fill up those empty seats and help us expand our youth ministry!
If they like it, they may be able to convince their parents to come to an adult service at some point. Giving a student a ride removes a barrier for them to hear the Gospel.
3 | Encourage Your Student to Serve
There are so many ways young people can serve here at Grace. We are constantly seeking more help with GraceKids (babies through elementary age), our booming GraceBuddies program (special needs assistance), and First Impressions Team (greeters/parking personnel.) Encourage your student to attend a youth service, as well as volunteer during another service before or afterward.
You may be thinking, "So what am I supposed to do during that extra time?" I would ask you to consider serving during a service as well! And if you are already volunteering throughout the week, then have a nice brunch date with your significant other minus your teenagers. Sounds nice, right? Whatever choice you make, please don't be the reason why your student can't serve. They'll find a sense of belonging at Grace when they do. And they'll be on the path toward discovering their gifts and calling in the kingdom.
4 | Celebrate Their Wins
Having a student who loves Jesus and feels connected to a church is incredible and a statistical anomaly. That should be celebrated!!! Every student, regardless of their personality, has an innate desire to make their parents proud. That also carries into their spiritual advancement. If your student finds the bravery to tell someone about Jesus, celebrate it!
If your student reads the book of John all the way through, celebrate it! If your student serves in a new ministry for the first time, celebrate it! How? Simply saying, "I'm proud of you for growing in your faith" goes a long way in making them feel valued and encouraged. You don't have to go overboard, just acknowledge their spiritual growth in a meaningful way.
Someone once said, "you get what you celebrate." Are you celebrating your student's spiritual accomplishments as much as their academic or sports accomplishments?
5 | Love & Trust Your Youth Director
We are privileged to have some of the most incredible(!), amazing(!), fantastic(!) volunteers directly impacting your students' lives each week. Whether you have a middle or a high school student, you have a campus youth director who sacrifices their time to help students engage with God on a deep and personal level.
This type of calling is arduous and, honestly, can be quite discouraging.
Whenever you see a campus youth director, please encourage them and show them your gratitude.
What does this have to do with helping your student? The answer is this: healthy parent-director relationships help ensure healthy director-student relationships. In good seasons and bad, keeping that line of communication open can make all the difference!
A word to Students
Middle and high school students – now let me talk to you for a moment. I love you. I am so happy and so honored to be your youth pastor. I'm sorry if you have ever felt belittled or insignificant when an adult has said you are "the future." You don't have to wait in line…your time is now!
You are not just a butt in a "church pew". We need you to serve and to take ownership of Grace Community Church. Yes, I'm sure God does have an incredible plan for your future. However, he also has an incredible plan for your present. Allow your parents and church leaders to help you live out your calling here in your current season of life. You are the church of now!
---